Select Item.
Quantity.
Tat Tech Hydraulic Tattoo Shop chair is Multi Functional. It allows customer to be able to sit, straddle or lay in multiple positions.

Extra:
You are also given 2 type of head rests & 2 Types of Armrests.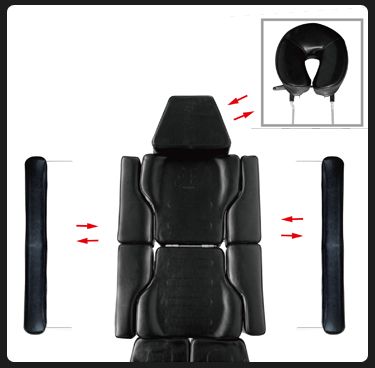 Chair Position: Allow your customer to sit up in the chair in multiple angles. The leg cushions also lower and raise separately. Leg cushions can also be shorten when needed.
Straddle Position: The customer can straddling and hug the back rest. The chair also has a foot rest to add extra comfort when in this position. Head rests can be used or can be removed.
Bed Position: You are also given extra widening cushion which are used when your chair is in the bed position.
Tattoo Shop Chair Weight: 175lb
Seat Height Adjustment: 26" to 32" Inches
Chair Length When Lying Flat: 75" Inches
Chair Width : 30" Inches
SHIPPING!: This product can only be shipped by pallet. It is 95% assembled in one big box. Shipping by pallet can be an estimated shipping price of $500 depending on your area. Please call us for a shipping quote or you can arrange for pick up.